"There is one body and one Spirit—just as you were called to the one hope that belongs to your call—
one Lord, one faith, one baptism, one God and Father of all, who is over all and through all and in all."
Ephesians 4:4-6
Strong Faith, Fervent Love: Helping Young People Grow in the Faith
An important part of the Our Savior congregation is its dedication to our youth. OSL is devoted to encouraging young people to become strong Christians and living out their faith in their homes, schools, and communities. FUSION's goal is to faithfully lead, serve, resource and network our middle school youth with Christ and His gifts, which are at the heart and center of everything. FUSION provides a context where our kids are thinking, talking and engaging others, both within and outside the faith.

Overall, we want to interweave the youth into the church while building a relationship with God and thus creating mature, knowledgeable Christians who, when ready, are able and eager to assume leadership roles in their church.

And perhaps most importantly, we believe it is important to support parents in raising their teenagers in Christ. FUSION cannot compete with school, the many extracurricular activities, and other things that take up today's middle schoolers time. So we strive to give both teen and parents the tools, the questions, and the answers that they need to grow in the Lord. All efforts we make, we make as a team toward the common goal: A faithful confessional Lutheran, who will continue their study of God's Word presented in Holy Scripture and explained through the Small Catechism throughout their life.
Witchcraft -Falling Prey to a Power Play
November 14th, - Monthly Pizza and Bible Study
The OSL Fusion (middle school) youth group meets monthly on the second Sunday of the month. Our November gathering will be Sunday, November 14th from 4:30-6:30 pm. We will be meeting in the school gym for food, games, and devotions.

This month we will taking a closer look at witchcraft. Wicca is the Old English term for witch. Witchcraft seeks power through the worship of a pagan Ultimate Deity. Through the study of the truth of the Bible, we see that Wicca is a powerless religion. Only through the true God -Father, Son, and Holy Spirit-do we receive power for living.

By the power of the Holy Spirit, the students, through the study of God's Word, will:
1. understand the teachings of Wicca;
2. come to see that the only true source of power for living is our eternal, triune God.

So, if you are in middle school, make plans to join us on Sunday, November 14th, from 4:30-6:30 pm in school gym! Come enjoy food, drinks, games, and devotions!
Fusion Winter Quarter Meeting

On Sunday January 20, Fusion youth group meet for our winter get together. The topic for discussion was temptations and "the flaming arrows of the evil one" (Eph. 6:16) which are continuously shot at us. We learned how God provides the model (Jesus) and the weapon (His Word) which enables us to effectively fight temptation. After the devotion and hamburgers and hotdogs the group played archery tag on the sports court. Everyone had a great time and are excited about our next meeting this spring!
Fusion Fall Quarter Meeting

On Sunday Oct. 14 our middle school youth group Fusion, had their fall get together. The topic for discussion was anger. What is anger? Is it always bad? and What does the Bible say about anger? The event was well attended and there were a lot of good questions as Pastor Krieg led the group in Bible study. After the Bible study we had hotdogs and hamburgers and a huge amount of sweets!! The it was off to the sports court for a life-sized version of "Angry Birds". Everyone had a great time and can't wait for our next meeting this winter!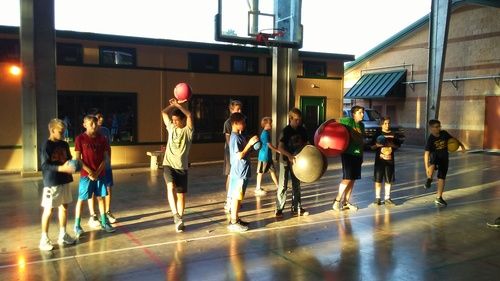 Camp Lone Star Confirmation Retreat - 2018
Confirmation retreat to Camp Lone Star! It was a great success as we were able to use that time together to get to know one another outside of the classroom. During our time at camp the kids were able to participate in a number of challenge courses which taught them about themselves and each other, and what they could accomplish as a team. During devotions, we focused on 1 Peter 3:15 and what it means to live out our faith in a world which is often hostile or indifferent towards the Word of God. During our classroom time, we discussed the 1stCommandment and how all other Commandments rest on this one.
We'd love to hear from you. Fill out the form below to get started.